Bourses d'études : France 2018 – ESSCA
---
Type de bourse
Bourse d'études Pays
France Niveau d'études
Master Date début de candidature
01 mai 2018 Date fin de candidature
31 mai 2018
---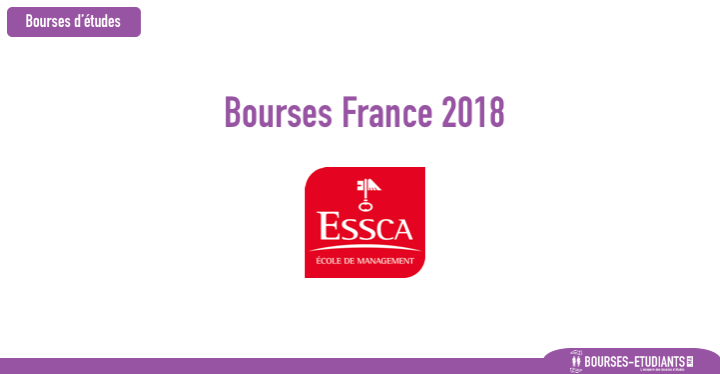 ---
Bourses d'études : France 2018 – ESSCA
ESSCA SHOOL OF MANAGEMENT – Bourses Maroc
Founded in 1909 in Angers, ESSCA is one of the top French graduate schools of management offering Bachelor and Master programmes to French and international students. The school offers a range of specialist Master's programmes taught only in English.
A private, not-for-profit institution, ESSCA is accredited by the French Ministry for Education and by three international accreditation agencies, EFMD*, AACSB** and AMBA***.
When combined with academic excellence, a high-qualified international faculty, top-notch research and a vast partner network worldwide, an ESSCA education truly becomes a fulfilling and enriching experience.
Scholarship programme :
The MSc in International Entrepreneurship is a programme delivering two degrees. It is an opportunity to study in two countries, at two highly prestigious institutions:
– a MSc from ESSCA School of Management, Paris – another degree issued by the partner university chosen by the student To be graduated, students are expected to validate 3 academic terms:
– a first term delivering core courses at the home institution
– a specialization semester at one of the 5 partner universities
– a 3rd semester dedicated to an internship and completion of a Master thesis
The intake at ESSCA may be semester 1 (September) for core courses or semester 2 (January) for the specialisation.
All courses are taught in English.
Why this programme ?
Ours is the right programme to get both a Business or Economics Master's and a specialization in one of 6 leading management topics with a Global outlook. Gain global experience in this unique programme at your choice of 2 universities and from amongst 6 specializations! Earn two business master's degrees from your preference of 6 international universities in just 3 semesters!
Dossier de candidature
---
Informations de contact
---