Bourses d'études : France 2018 – INSEAD North Africa Scholarships
---
Type de bourse
Bourse d'études Pays
France Niveau d'études
Master Date début de candidature
15 janv. 2018 Date fin de candidature
29 janv. 2018
---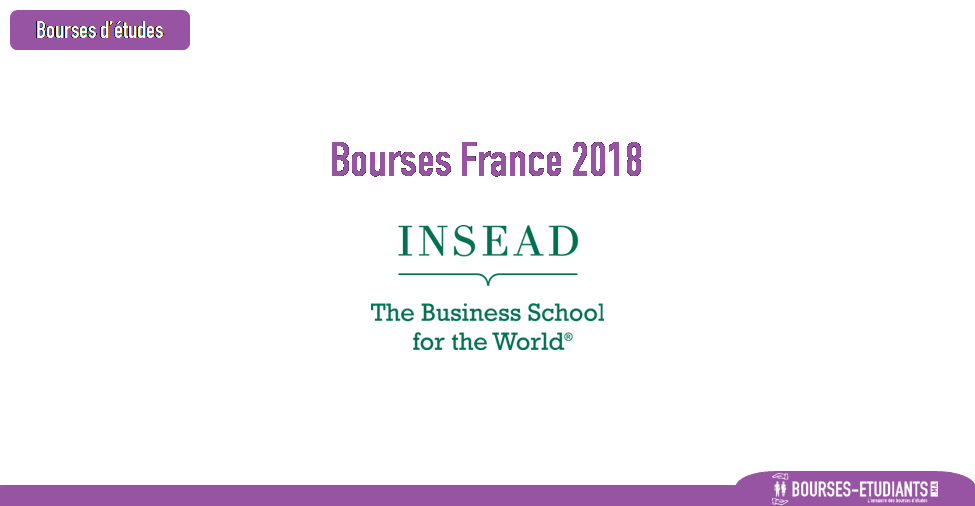 ---
Bourses d'études : France 2018 – INSEAD North Africa Scholarship
INSEAD's goal is to recruit the best and brightest to join our school, regardless of their backgrounds or financial situations. If it has always been your dream to pursue a top-ranked MBA programme, we are here to help.
Over the last three years, we have doubled our scholarship funds which has enabled us to offer higher grants to more participants. There are over 90 types of scholarships available, which apply to both our campuses in Fontainebleau and Singapore.
Three categories of scholarships are available to you: need-based, non-need based (awarded based on nationality, professional background, leadership abilities, or any combination of these criteria), and spot scholarships which are awarded immediately without the need for applications based on exceptional admissions profiles.
Description:
This scholarship was established by a group of recent INSEAD alumni in the spirit of giving back. The donors wish to support the next generation of INSEAD MBA students from North Africa (The Maghreb). It is their hope that the scholarship will help to increase the number of INSEAD MBA students from this region. Scholarships such as this ensure that INSEAD can maintain and enhance the exceptional diversity in the classroom that is the hallmark of the school (number of counties, nationalities, academic and professional backgrounds, gender etc). It supports INSEAD's goal of admitting talented and diverse candidates to the MBA programme, regardless of their economic circumstances.
Eligibility:
Nationals from Algeria, Morocco and Tunisia who have been admitted to the MBA programme or invited for admissions interviews may apply. Preference will be given to candidates whose education and professional experience has a North African focus and/or who demonstrate a strong commitment to region. The scholarship will be awarded to candidates who demonstrate that they will benefit from financial assistance.
Essay topic :
1).In approximately 300 words for all the questions that follow: (a) introduce yourself and include an account of your early years i.e. where you grew up and the primary and secondary schools you attended. How did you finance your secondary education? (b) briefly describe how you envisage contributing to the future development of your country/region after graduation and (c) Give the main reason why an INSEAD MBA is relevant to your future career development.
2).Only if you would like to be considered for the INSEAD Alumni Fund Robin Hood Scholarship: in approximately 350 words give the main reason for your application for the IAF Robin Hood Scholarship. Award recipients will be expected to lead the on-campus campaign. State how you will get involved and make peers participate. What are your ideas for the campaign?(If not applicable, please enter N/A)
3).In approximately 300 words provide a concise but accurate description of your financial circumstances as well as your budget for the year at INSEAD. How do you expect to finance your studies if you do not obtain a scholarship from INSEAD? Why INSEAD should consider you for a Diversity scholarship? What amount do you consider appropriate? Please do not forget to submit a number of supporting documents as required.
4).Only if you would like to be considered for the IAF Special Profile scholarships, please answer the following question in no more than 300 words: Briefly describe an instance or aspect in your life to date that has made you stand out amongst your peers or that you consider exceptional in one way or another.(If not applicable, please enter N/A)
5).Please outline how, if you are successful in your career, you might help others in theirs.
6).Complete Diversity scholarship application and essay questions
Amount of Award:
€10,000 – €12,000
Application Format:
To be considered for this scholarship, please complete the Diversity Scholarship application.
Scholarship Application Deadline:
December 2018 Class:
Round 1:
Applications Open: 24 April 2017
Deadline: 8 May 2017
Round 2:
Applications Open: 5 June 2017
Deadline: 19 June 2017
Round 3:
Applications Open: 17 July 2017
Deadline: 31 July 2017
July 2019 Class:
Round 1:
Applications Open: 23 October 2017
Deadline: 6 November 2017
Round 2:
Applications Open: 15 January 2018
Deadline: 29 January 2018
Round 3:
Applications Open: 5 March 2018
Deadline: 19 March 2018
December 2019 Class:
Round 1:
Applications Open: 23 April 2018
Deadline: 7 May 2018
Round 2:
Applications Open: 11 June 2018
Deadline: 25 June 2018
Round 3:
Applications Open: 30 July 2018
Deadline: 13 August 2018
Dossier de candidature
---
Informations de contact
---