Bourses d'études Japon 2020 : Graduate Program by Honjo International Scholarship Foundation
---
Type de bourse
Bourse d'études Pays
Japon Niveau d'études
Licence Date fin de candidature
31 mai 2020
---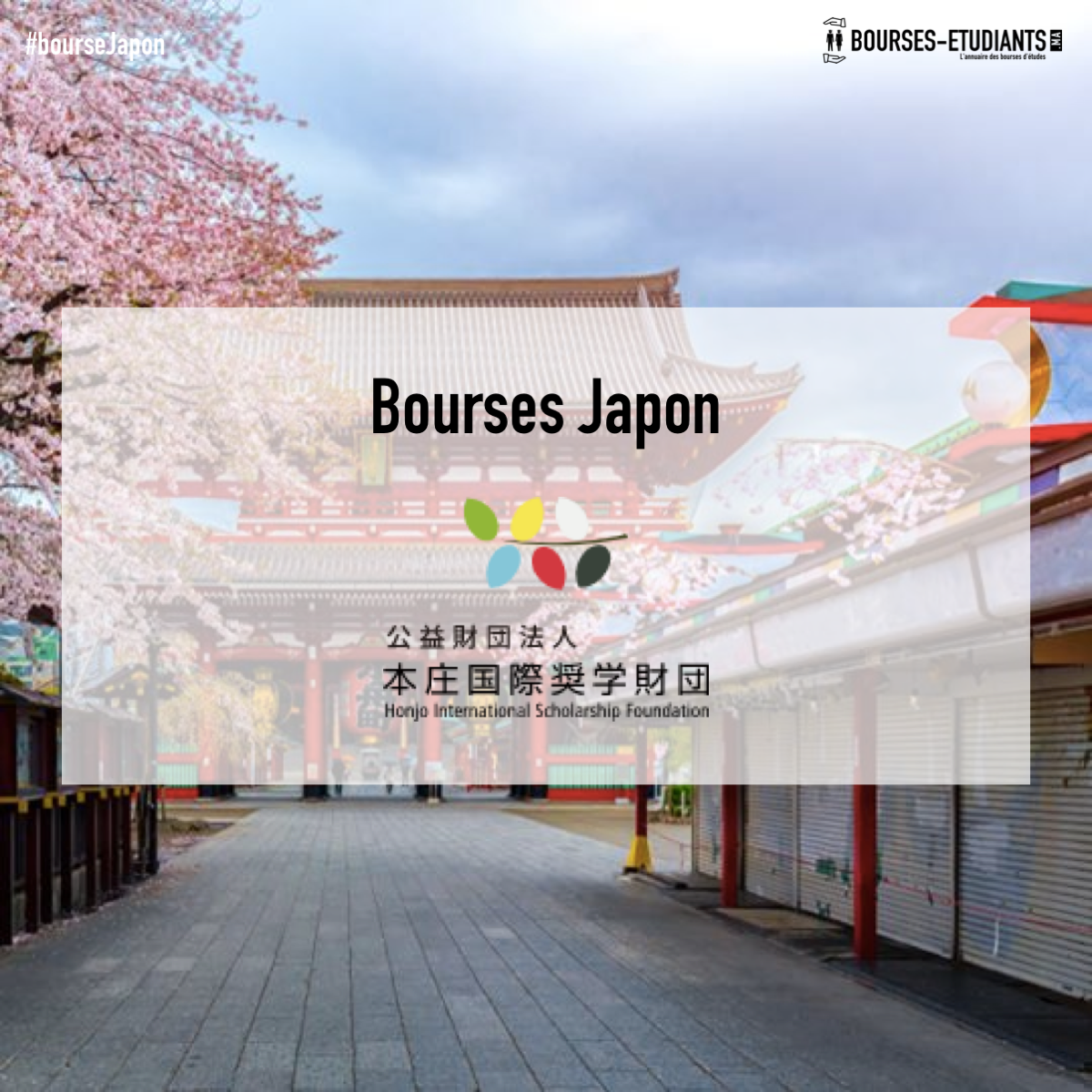 ---
Bourses d'études Japon 2020 : Graduate Program by Honjo International Scholarship Foundation
Description :
Applications are invited for Honjo International Scholarships available for foreign students to attend a graduate school at a Japanese university. Up to 15 to 20 programs will be awarded.
These are available for all nationalities and research fields students to pursue a graduate program (Master and PhD) at a Japanese graduate school.
Honjo International Scholarship Foundation has been established to provides to bright holders who are struggling to study under different conditions in developing nations.
Foreign students who study or plan to study in Japanese graduate school for doctoral or master's degree.
Applications can be submitted from abroad as long as an applicant is accepted to Japanese graduate school.
All nationalities and research fields are welcome.
Applicants may directly apply to the foundation without pre-selection by the university.
The student who does not possess Japanese citizenship
The student must be enrolled by April 2020 or applying for the session starting from April
2020 at a graduate school in Japan.
The student who is going to enter in fall 2020 should apply at the next season that application period is April 1 ~ April 30, 2020 (planned).
In principle, the student enrolling in a professional graduate school is not eligible for apply. However, the student who can submit a research plan is eligible to apply.
To be eligible, the student applying for the PhD Program must have been born after March 31, 1984. The student applying for the Master's Program must have been born after March 31, 1989.
The student should have a strong will to serve in his / her home country after graduation. This doesn't mean to have employment guaranteed already or to return his / her home country immediately after graduating the university.
The student must have a deep understanding of international friendship and goodwill and must attend the events organized by the foundation and take part in the network as an alumni member.
The student must be able to carry an everyday conversation in Japanese. Interviews will
be conducted in Japanese. (no exception )

How to Apply 

How to apply: Applicants can submit an online application with  "web application system" and upload the required documents.
Supporting Documents: Academic transcript (In Japanese or English), Research Plan, A recommendation letter from the supervisor, Documents that prove admission, such as an admission letter, a letter of
acceptance etc
Admission Requirements: To apply for the program applicants must have a previous degree.
Language Requirement: Applicants from outside the home country will often need to meet specific English language/other language requirements in order to be able to study there.

Benefits

The period of the award is set in accordance with the shortest period of time required to complete the intended degree.
(1) ¥200,000 per month for1 or 2 years
(2) ¥180,000 per month for 3 years
(3) ¥150,000 per month for 4 or 5 years
Dossier de candidature
---
Informations de contact
---
Organismes proposant la bourse