Bourses d'études : Kleve – Rhine-Waal University of Applied Sciences
---
Type de bourse
Bourse d'études Pays
Allemagne Niveau d'études
Master Date début de candidature
01 août 2018 Date fin de candidature
01 oct. 2018
---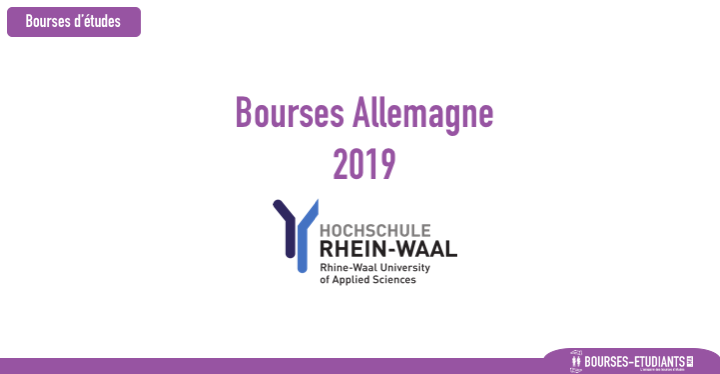 ---
Bourses d'études : Kleve – Rhine-Waal University of Applied Sciences
Bourses Maroc 2019
Rhine-Waal University of Applied Sciences offers an innovative and international academic atmosphere combined with first-rate teaching and over 30 interdisciplinary bachelor's and master's degree programmes, the majority of which are taught in English. Our two brand-new campuses, which are located in the heart of Kleve and Kamp-Lintfort, feature state-of-the-art facilities, equipment, laboratories and technology for students to use in their studies and research. Rhine-Waal University of Applied Sciences is committed to excellence in research in engineering, technology, the natural and social sciences, and is home to some 7,000 students hailing from over 100 different nations. It is located in the scenic Lower Rhine between the economic hub of the Rhine-Ruhr metropolis and the Netherlands. Here you'll find beautiful landscapes, safe cities and countless leisure and sport activities for students and families all year round. What's more, we're located very close to three international airports in Amsterdam, Düsseldorf and Weeze, which means we're easily accessible by air from nearly every continent.
The Sustainable Development Management master's programme links and incorporates the relevant subjects of different academic disciplines, including economics, political sciences and project management methods. This provides our students with a broad perspective that is necessary to make a significant contribution to the academic debate about sustainable development, and prepares them with up-to-date methods in order for them to be able to implement successful development projects. To this end, our curriculum is aligned with the project cycle: the coursework delivers the required skills to not only successfully identify, design, plan, and implement development projects, but also to critically evaluate existing projects. This guarantees that our students are highly valuable assets for employers in both the public and private sector. The overall aim of the programme is to train future professionals, who are enabled to play a part in the implementation of the 17 sustainable development goals, thereby contributing to create a more equitable and sustainable world.
Course focus :
The regular duration of study for this programme is three semesters. The first two semesters serve to impart advanced economics and political science approaches relevant to the issue of sustainable development and empirical methods. In the second semester, students gain profound knowledge of international law aspects as well as project management methods and evaluation in development cooperation. In both semesters, the possibility is given to bring one or more specific topics into focus by participating in elective courses.
The third semester serves the purpose of writing the master's thesis, which can also be done as part of a specific development project. In preparation for the thesis, a research project is carried out within the field of applied development cooperation.
Target group :
Graduates in social sciences, economics and industrial engineering with an interest in sustainable development.
Entry requirements :
A professionally qualifying first degree in a related field, i.e. economics, social sciences, or engineering with a focus on industrial engineering and management, with a German grade of 2.5 or higher or an ECTS grade of A or B.
If an applicant has earned a first degree in a programme that consisted of less than 210 ECTS points or had a standard period of study of less than seven full-time semesters, then said applicant may be admitted to this programme of study on a provisional basis with the stipulation that he or she must successfully complete the missing bachelor-level requirements during his or her master's studies. In this case, the Examination Board and the applicant will conclude a formal learning agreement, which states the scope of the missing ECTS points and specific modules which are to be completed.
At least two years of professional experience in a relevant field.
English language skills at level B2 according to the Common European Framework of Reference are required. Please be aware that all applicants' test report form numbers will be checked. The following certificates are accepted::
IELTS: 6.0 or higher
TOEFL (Internet-based test): minimum 80
The TOEFL code of our university is: 6962.
Degree awarded : Master of Arts
Course begins : Every summer and winter semester (i.e. March and September). For DAAD scholarship holders only in winter semester.
Course duration : 3 semesters full-time (1,5 years) / In case of learning agreement 4 semesters full-time (2 years)
Duration of German language course prior to beginning of programme : German language skills are not required, however free German courses are offered at the university. A two-month English language course is compulsory for students awarded a DAAD scholarship.
Application deadline : October 1st 2018 for DAAD-EPOS applicants (for winter semester 2019/2020).
For further information contact :
Course coordinator Sustainable Development Management Rhine-Waal University of Applied Sciences Faculty of Society and Economics Marie-Curie-Str. 1 47533 Kleve
Phone: +49(0)2821-806-73-9722
Email: [email protected]
Dossier de candidature
---
Informations de contact
---