Bourses d'études : Nouvelle-Zélande 2018 – Auckland University of Technology
---
Type de bourse
Bourse d'études Pays
Nouvelle-Zélande Niveau d'études
Master Date début de candidature
01 mai 2018 Date fin de candidature
14 nov. 2018
---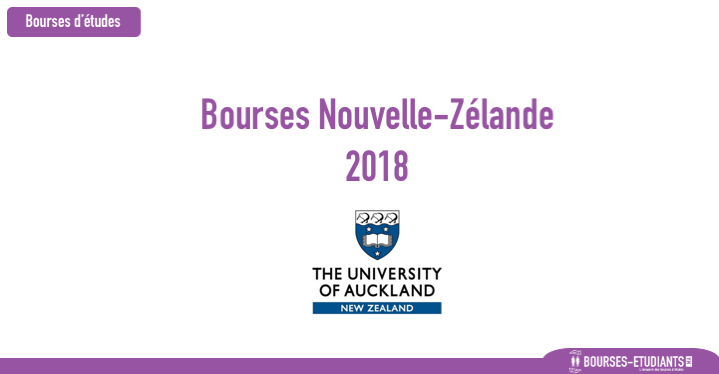 ---
Bourses d'études : Nouvelle-Zélande 2018 – Auckland University of Technology
The study of language, society and culture is at the core of the broad spectrum of knowledge known as the humanities. AUT's language and culture programmes focus on language in its widest sense.
The purpose of this scholarship is to encourage and support postgraduate study in the area of Language Teaching or Applied Language Study. The scholarship is open to both domestic and international students.
Selection criteria:
Applicants must:
General Information:
How do students apply?
APPLICATION REQUIREMENTS :
Scholarship applicants must complete the AUT online Scholarship Application available from the link above from September in the year of application.  Applicants will upload:
– A brief CV (no more than two pages)
– Academic transcripts for any tertiary study completed at any institution other than AUT.
– Two testimonials relating to the candidate's applied language/ linguistic background, as well as their general academic performance and potential.
Regulations
Application Form
Decision makers
Applicants will be considered by a selection panel from the School of Language and Culture.  No scholarship will be awarded if the panel is of the opinion that there is no applicant of sufficient merit applying for the award.
How and when do students learn of the decision?
As soon as possible after the closing date.
What conditions are attached to acceptance of this award?
– The recipient must be accepted as a full-time student into the Master of Professional Language Studies (Language Teaching) programme or the Master of Arts in Applied Language Studies.
– Domestic students may not hold any other fees scholarship in conjunction with this scholarship.
– The recipient may hold additional non-tuition fee based scholarships with approval of the Head of Department and the Scholarships Office.
– The recipient may hold this scholarship once and may not reapply in subsequent years.
– The scholarship may be terminated at any point should any unfavourable report be received from lecturers regarding grades, or attendance.
Dossier de candidature
---
Informations de contact
---