Bourses d'études Nouvelle Zélande 2020 : Engineering – University Of Canterbury
---
Type de bourse
Bourse d'études Pays
Nouvelle-Zélande Niveau d'études
Licence Date fin de candidature
31 oct. 2019
---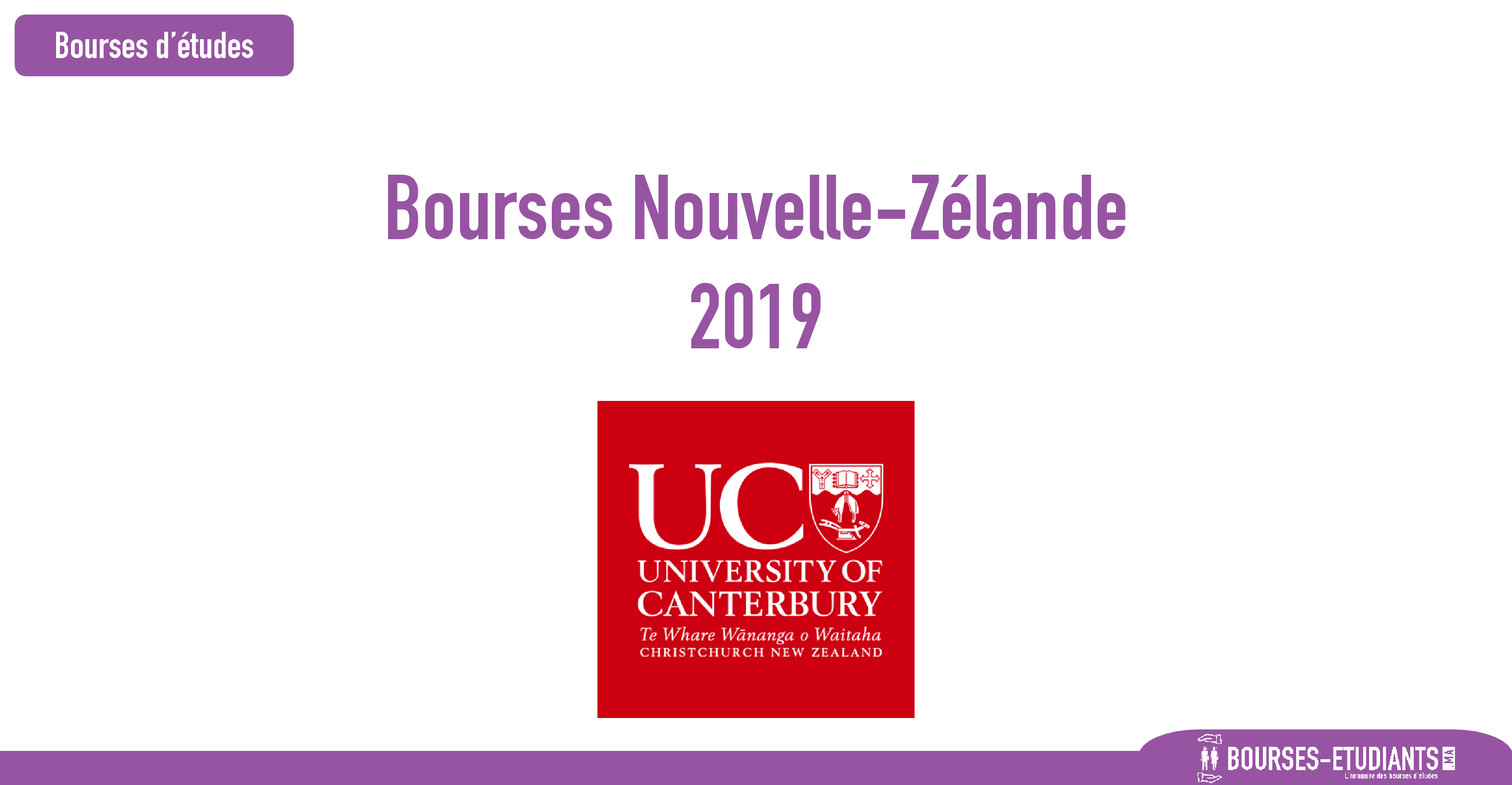 ---
Bourses d'études Nouvelle Zélande 2020 : Engineering – University Of Canterbury
UC College Of Engineering International Scholarship – University of Canterbury.
This scholarship recognizes top international scholars and supports them in studying towards an undergraduate Engineering degree at the University of Canterbury in Christchurch, New Zealand.Thirty-five scholarships are offered annually from The University of Canterbury to allow distinguished undergraduate international students to join any year of a program to study Engineering.
The University of Canterbury is New Zealand's second-oldest university.UC was ranked in the world's top 500 universities. And the third highest-ranked university in New Zealand.
Opportunity Focus Areas: Engineering
Required Languages : English.
Eligible Countries : All world countries
Program Period : 
One year can be held for longer based on the academic performance of the student
Students who apply for the scholarship in March must take up the scholarship in the year of application. Students who apply for the scholarship in October must take up the scholarship in the year following the year of application.
The online application system will begin accepting applications eight weeks before the closing date.
Eligibility Requirements (Criteria)
 Recipients must be full-fee-paying international students. If during the tenure of a scholarship, a recipient's immigration status changes so that he or she is no longer a full-fee paying international student, and thereby obtains a partial refund of academic fees from the University, the scholarship is withdrawn, and any scholarship money paid since the status change was recorded at the University is refunded to the University.
 Applicants may not be:
a. Citizens of New Zealand or Australia
b. Permanent Residents of Australia
c. Holders of New Zealand residence class visas.
 Applicants must have completed a university entrance-level qualification that permits entry into a University of Canterbury undergraduate degree program before the closing date for applications for the scholarship. Such qualifications may be from secondary schools, pre-university institutions, universities, or other tertiary institutions. Home-schooled students are eligible.
 By the closing date for his or her application, an applicant must have applied to the University for admission to the Bachelor of Engineering with Honours (BE(Hons)) degree program.
 Applicants cannot be already enrolled in a BE(Hons) program at the University.
English Language Requirements: Applicants whose first language is not English are usually required to provide evidence of proficiency in English.
Selection is based on the following criteria:


Academic achievement.
Demonstrated commitment to, and interest in, Engineering.
Cultural or sporting participation, or community service.
General character.
Opportunity Cost : (Partially Funded)
The scholarship provides financial assistance to a value of $15,000.
The scholarship is paid annually to a recipient's tuition fees account after confirmation of full-time enrolment in a BE(Hons) degree program at the University. (Continuation of a scholarship is conditional on satisfactory academic progress and adherence to the University's statutes and regulations.)
How to Apply
First Step: Register for an account or you can sign in using your Facebook account or your Gmail.
Second Step: Answer the pre-qualification questions.
Third Step: You will need to provide your transcript of records from secondary school and the email of a school referee as part of your application.
Fourth Step: Fill the required fields in the application form (Personal information, University entrance qualifications, intended studies, Additional information, Personal statements, declaration and references.). Please note that you cannot submit your application unless it is 100% complete.
Dossier de candidature
---
Informations de contact
---
Organismes proposant la bourse
University of Canterbury Founded in 1873 by scholars from Oxford and Cambridge universities, Canterbury University moved to its current campus in Ilam in the 1970s, from what is now the Christchurch A...