Bourses d'études : Pakistan 2018 – National University of Sciences And Technology
---
Type de bourse
Bourse d'études Pays
Pakistan Niveau d'études
Doctorat | Master Date début de candidature
14 mai 2018 Date fin de candidature
31 mai 2018
---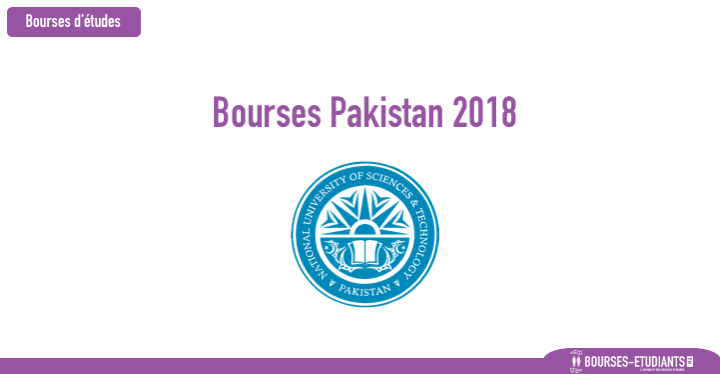 ---
Bourses d'études : Pakistan 2018 – National University of Sciences And Technology
Bourses Maroc
Bourses Maroc :
Scholarships for Organization Of Islamis Cooperation (OIC) Member countries : 
NUST fully shares the OIC General Secretariats vision, aim and objectives of the 'OIC Educational Exchange Program, solidarity through academics. NUST offers 30 x scholarships for students from member countries of Organization of Islamic Cooperation (OIC).
Number of scholarship : S – 20 PHD – 10
Fields of study :
Scholarships are for the disciplines offered at Main Campus, Islamabad which can be viewed at 'Programs of Study' link at NUST website.
Benefits :
Scholarship includes heavily discounted package covering following:
Tuition Fee per year         – USD 1000/-
Hostel rent and messing – USD 60/- per month
Health Insurance – USD 15/- per month
Admission Criteria : 
Masters – 16 years of schooling with 4 years Bachelors degree in relevant discipline  (given at Eligibility Criteria at aforesaid NUST website link) and having a minimum CGPA of 2.5 out of 4.0 or 60% marks. Medium of instruction in Bachelors degree must be english.
PhD – 18 years of schooling with Masters in relevant discipline and having minimum CGPA of 3.5 out of 4.0 or 70% marks. Medium of instruction in Bachelors and Masters degree must be english.
Duration of studies : 
​Masters  –  2 years
PhD – 3 – 5  years
Procedure for applying : 
Applicants will apply directly to OIC General Secretariat, Jeddah for scholarships.
The General Secretariat will accept application for initial processing and communication to the offering member state and its institution.
Once the short listed candidates have been accepted by the receiving state and institution, the candidate will be asked to meet other admission and immigration formalities of receiving institution and state respectively.
For details visit OIC website link 
Dossier de candidature
---
Informations de contact
---
Organismes proposant la bourse
National University of Sciences and Technology – NUST National University of Sciences and Technology commonly referred to as NUST, is a public research university with main campus in Isla...