Bourses d'études Pays-Bas 2020: Bachelor degree program at University of Amsterdam
---
Type de bourse
Bourse d'études Pays
Pays-Bas Niveau d'études
Licence Date fin de candidature
15 janv. 2021
---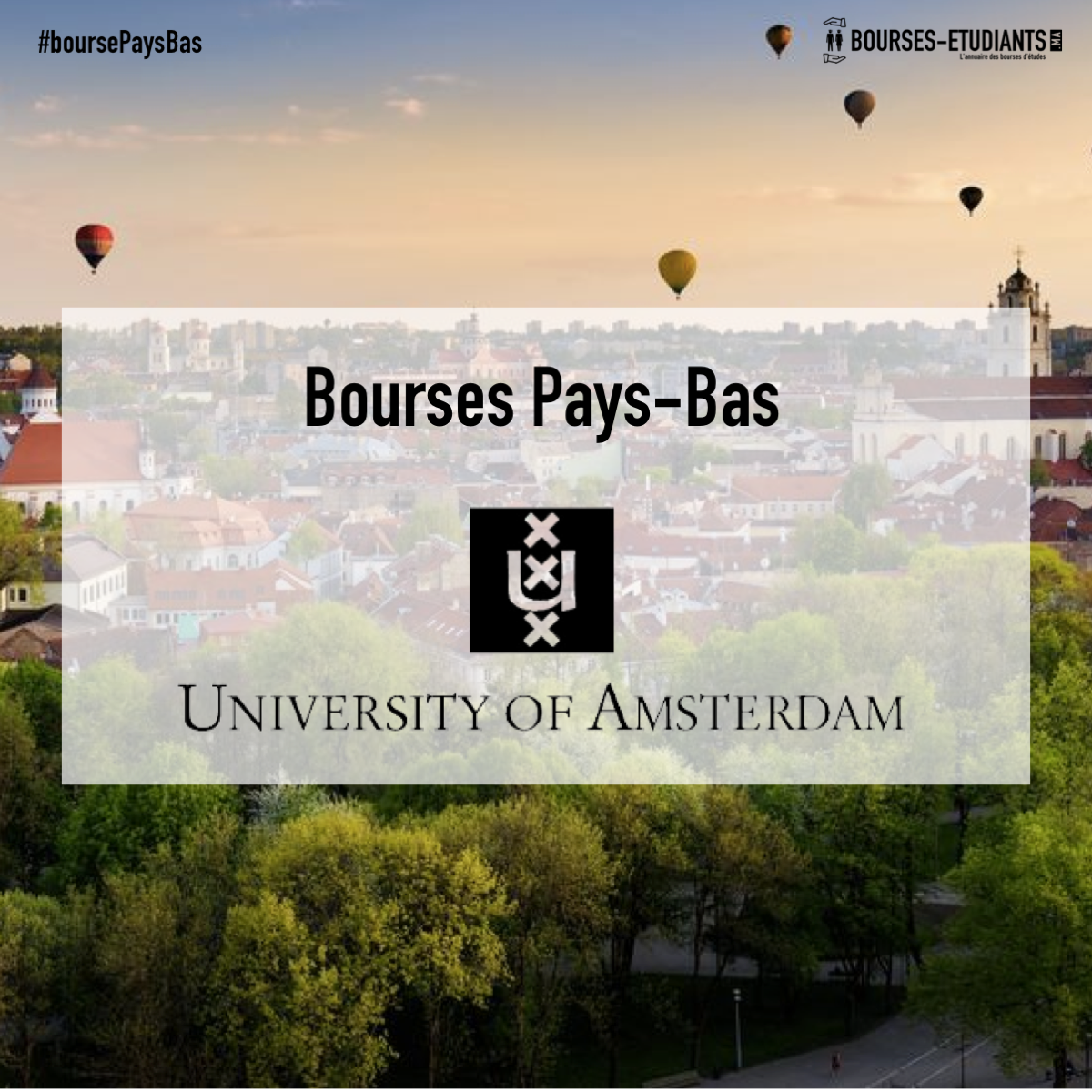 ---
Bourses d'études Pays-Bas 2020: Bachelor degree program at University of Amsterdam
Description
University of Amsterdam (UvA) is one of the largest universities of the Netherlands. The UvA is ranked among the top 10 best universities in Europe in the US News rankings of the Best Global Universities and ranks 40th worldwide. The university has a positive environment and an open environment where everyone can develop their talent.
Eligibility Criteria
The applicant must have to meet the following eligibility criteria:
The candidate must be an international student except for the European Economic Area.
Applicants must not be entitled to receive a Dutch study grant or loan.
Candidates must have submitted a complete application to the BSc programme of the College of Economics and Business.
Applicants must have been (or will be) admitted to one of the BSc programmes of the College of Economics and Business.
Candidates must be able to comply with the conditions to obtain a Dutch visa.
Applicants may not receive a full coverage scholarship for the same period of study as the AMS scholarship.
Acceptable Course and Subjects
The scholarships are open to study a bachelor degree program in the following fields:
Actuarial Science
Business Administration
Business Analytics
Econometrics
Economics and Business Economics
Politics, Psychology, Law and Economics (PPLE)
Why Study at the University of Amsterdam?
The University of Amsterdam is a leading global network of research-intensive universities. It has seven faculties offering bachelor's, masters and PhD programmes in a diverse range of fields, connected by a culture of curiosity. The university offers various activities from art courses to sports activities and public lectures.
Benefits of the Programs
The grants will be provided as follows:
Each successful candidate will get the total amount worth €18,000.
The grants will provide an amount worth €6000 per three years of Bachelor Program.
How to Apply for the Scholarship
For applying to these studentships, candidates are needed to follow these steps:
Step 1: Apply for Admission
For taking the studentships, applicants must be required to take admission in a bachelor degree program at the University of Amsterdam.
Apply for admission
Step 2: Apply for a Scholarship
After taking confirmation, applicants must fill an online application form and submitted to the Admissions Offices of the Graduate Schools. Applicants must be applied before the closing date.
Apply for Scholarship
Step 3: Submit Required Documents
High school Diploma Certificate
School transcripts already available
Transcripts from prior school (only if requested)
Post-Secondary Transcription
Official survey results
Start / Course Vitae
Motivation Letter (300 words)
Entry Requirements
Applicants must meet all the eligibility criteria and hold all the documents at the time of admission.
Applicants must hold previous studies certificate for Undergraduate degree.
Applicants must demonstrate the evidence of English Language Proficiency.
Applicants should write an AMS motivation letter
Visa Requirements
To be able to study in the Netherlands, you might need to apply for a residence visa (VVR) and an entry visa (MVV). It depends on your citizenship. You will need to provide various documents, including documents demonstrating the purpose of your trip.
Application Deadline: January 15, 2021, for Business Administration or April 01, 2021, for Bachelor's Program.
Dossier de candidature
---
Informations de contact
---
Organismes proposant la bourse
The University of Amsterdam is one of Europe's most prominent research-led universities. It is a modern institution with a long and rich history dating from 1632.  Our identity : The University of ...