Bourses d'études Pays Bas 2021: Master degree program at the Radboud University
---
Type de bourse
Bourse d'études Pays
Pays-Bas Niveau d'études
Master Date fin de candidature
01 mars 2021
---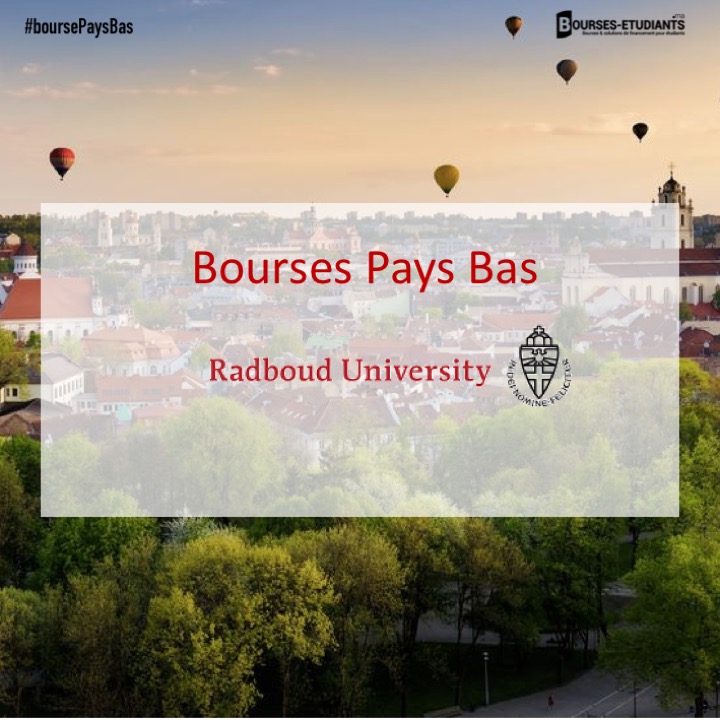 ---
Bourses d'études Pays Bas 2021: Master degree program at
The Radboud University 
Radboud University is pleased to offer 30 masters programmes to students of high academic ability for 2020 entry. International students (non-EEA) are eligible to apply for these endowments. 

The university aims to assist international students who require financial assistance with scholarships, specifically for international students. The Radboud programme is very selective and is only intended for talented students who have obtained outstanding study results and are highly motivated to pursue a Bachelor's degree at the Radboud University.
Description
University or Organization: Radboud University
Department: NA
Course Level: Masters degree
Award: Varies
Access Mode: Online
Number of Awards: NA
Nationality: International students
The program can be taken in the Netherlands
Application Deadline: March 1, 2021
Eligibility
International students (non-EEA) can apply for these endowments.
Applicants will only be eligible to obtain a Radboud Scholarship if you:

Hold a non-EU/EEA passport
Have (will obtain) a Bachelor's degree achieved outside the Netherlands, have no degrees achieved in the Netherlands and did not receive any previous education in the Netherlands
Have a high level of language proficiency
Have been fully admitted to the English-taught Master's degree program starting September 1, 2020, as stated in the formal letter of admission
Are able to comply with the conditions for obtaining a visa for the Netherlands
Are enrolled at Radboud University as a full-time student for the academic year and Master's degree program for which the support will be awarded.
How to Apply
How to Apply: The application for admission and the application for the opportunity is fully integrated, there is no separate application procedure for the opportunity . Admission to the program does not imply selection for RSP. You apply for a Radboud Scholarship by indicating during your application for admission in the OSIRIS Application system that you wish to apply for a Radboud Scholarship.
Supporting Documents: Applicants will be requested to upload copies of a valid passport or ID card,  Motivation letter, Bachelor's degree or equivalent, A certified transcript of Bachelor's degree or equivalent, Translations of degree and transcript, English language certificate, Handling fee, CV.
Language Requirements: In order to take part in this program, they need to have fluency in both written and spoken English. Non-native speakers of English need one of the following: A TOEFL score of 600 (paper-based) or 250 (computer-based) or 100 (internet-based), A IELTS score of 7.0 and Cambridge Certificate of Advanced English (CAE) or Certificate of Proficiency in English (CPE) with a mark of C or higher.
Benefits
The sponsorship will be used to reduce your tuition fee to € 2,078 and pays for costs for visa and insurance.  For example, a grant holder in 2020/2021 will pay a tuition fee of only €2,078, instead of €11,466 or €12,640.
In addition, the Radboud Scholarship also covers costs such as those for visa, residence permit, health insurance and liability insurance (Insurance Passport for Students (IPS)).
The Radboud award is not a fully-funded position and does not include living costs. You can find an indication of what international students should count on spending for one year of living and studying in the Netherlands.
Dossier de candidature
---
Informations de contact
---