Bourses d'études: Royaume Uni 2017 – University of Birmingham
---
Type de bourse
Bourse d'études Pays
Royaume Uni Niveau d'études
Bac Date début de candidature
01 mai 2017 Date fin de candidature
21 juill. 2017
---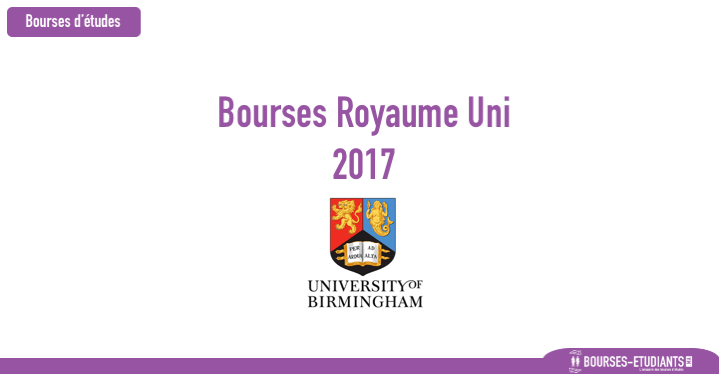 ---
Bourses d'études: Royaume Uni 2017 – University of Birmingham
birmingham
Bellerbys Undergraduate Outstanding Achievement Scholarship
Level of study : Any Undergraduate

Subject area : Arts and Law, Engineering and Physical Sciences, Life and Environmental Sciences, Medical and Dental Sciences, Social Sciences.

Nationality : Overseas (Non-EU)

Type of Award : University

Deadline for applying : Closed 21/07/2017 (Note: competition closed for this year)
Award Description
In partnership with Bellerbys collages, the University of Birmingham is pleased to provide this scholarship for acadmic high achievers.
Who we are looking for
You should have an excellent academic background.
The allocation of the awards will be made based on excellent academic achievement.  The university will also look closely at your reasons for applying for the scholarship, and why you are choosing  to study at The University of Birmingham.
Value of Award
The University of Birmingham is pleased to announce six scholarship awards of £2000 for students applying for entry to an undergraduate programme at the University starting September 2017 and who are currently studying at either Bellerbys Brighton, Oxford, London or Cambridge.
These are joint awards with our partner Bellerbys and will be awarded to the highest performing students starting their University of Birmingham programme in 2017/18 and will cover the first year fees only.
Eligibility Criteria
In order to be eligible, candidates must:
Have received an offer and selected the University of Birmingham as their firm choice for a full time undergraduate programme starting September 2017. The student must be entering the first year of an undergraduate programme based at Birmingham's UK campus.
Meet the academic conditions of their offer to the programme.
Be studying at either Bellerbys Brighton, Oxford, London or Cambridge.
Be classed by the University as an overseas fee payer for tuition fee purposes and be able to pay the outstanding tuition fees not covered by the scholarship;
Have sufficient funds to cover the full cost of living at the University of Birmingham, plus any visa/travel expenses associated with studying in the UK.
Start their studies at the University in September 2017 (the scholarship award cannot be deferred).
Accept an offer from (i.e. gone 'firm' with) the University of Birmingham by 30 June 2017.
Please note that students already registered and studying on a programme at the University of Birmingham in the UK, and students applying for MBChB Medicine and Surgery or BDS Dental Surgery are not eligible for this scholarship.
How to Apply
Application forms will be sent out to offer holders by college counsellors. Once application forms have been completed, they must be returned to the college counsellor. Applications should be made through your college by 21 July 2017.
The full scholarship will be awarded upon enrolment on studies in September 2017.
Dossier de candidature
---
Informations de contact
---