Bourses d'études : Royaume Uni 2018 – Anglia Ruskin University
---
Type de bourse
Bourse d'études Pays
Royaume Uni Niveau d'études
Bac | Master Date début de candidature
01 févr. 2018 Date fin de candidature
13 juill. 2018
---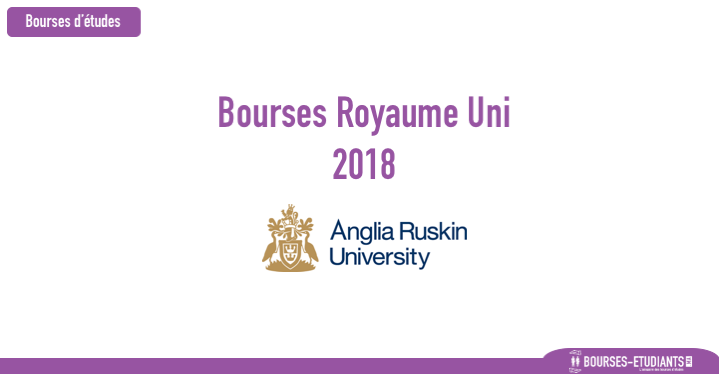 ---
Bourses d'études : Royaume Uni 2018 – Anglia Ruskin University
Bourses Maroc
International Excellence Scholarship (undergraduate and postgraduate)
Students applying for an Undergraduate award should have achieved ABB grades or above at A-level (or international equivalent qualification). Students applying for a Postgraduate award should hold a 2:1 degree qualification (or equivalent international qualification).
As well as looking at academic excellence, we're interested in why you want to study at Anglia Ruskin University, your career goals, work experience, and relevant activities you take part in outside of your studies. We'll ask you to complete an application which will include a supporting statement when you apply for the scholarship.
You should be studying a three-year bachelors degree (BA/BSc) or a taught Masters degree (MA/MSc). Full-time and part-time students can apply.
The total value of this scholarship is £4,000, which you'll receive in your first year of study.
Please note: this scholarship cannot be combined with any other scholarships or the £1,000 early payment discount.
How to apply
Complete our application form below.
The deadline for applications is 13 July 2018 for September 2018 starts, or 30 November 2018 for January 2019 starts.
International Excellence Scholarship application form
Dossier de candidature
---
Informations de contact
---