Bourses d'études : Royaume Uni 2018 – University of East Anglia
---
Type de bourse
Bourse d'études Pays
Royaume Uni Niveau d'études
Bac Date début de candidature
12 juin 2018 Date fin de candidature
22 juin 2018
---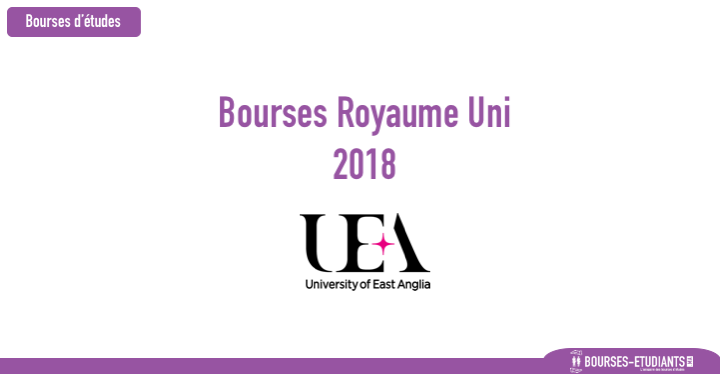 ---
Bourses d'études : Royaume Uni 2018 – University of East Anglia
Bourses Maroc
Each year UEA welcomes hundreds of international students who have chosen to move to the UK to study with us. We recognise the decision to do so comes at a financial cost, therefore we offer a large number of scholarships specifically for international undergraduate students to help cover the cost of your studies.
What scholarships do you offer?
Our Vice Chancellor's International Undergraduate Excellence Scholarships are designed to reward academically outstanding applicants who have been offered a place to study with UEA. Scholarships are awarded in amounts of 25% or 50% of your tuition fees and are deducted on a yearly basis from your tuition fees.
Who is eligible for the Vice Chancellor's International Undergraduate Excellence Scholarships?
When you apply for the scholarship you need to be in possession of a conditional or unconditional offer for first year of an undergraduate degree course starting at UEA in September 2018.  Your offer should state that you are an international fee paying student.
To be classified as an international fee paying student you typically need to be a non-EU resident. Our fees and funding page has more details of who will pay international tuition fees, and therefore be eligible to apply for these scholarships. If you are still in doubt then email our Planning Office who can advise you further.
You need to be independently funding your studies, which means that you can't apply if an organisation is sponsoring your study and paying your tuition fees for you. However, if you are getting a government loan you can still apply for the scholarships.
Please note, that offer holders for courses in Norwich Medical School, Occupational Therapy or Physiotherapy are not eligible to apply for this scholarship.
I'm eligible for the Vice Chancellor's International Undergraduate Excellence Scholarships – what is the application process?
You can make your application via our Application Form.
The deadline for application is the 22 JUNE 2018, though we recommend that you apply as early as possible as awards are issued on a monthly rolling basis between February to June.
Only successful candidates will be notified and you should familiarise yourself with our terms and conditions.
What are you looking for in an application?
We primarily look at the submission you make via the form above.  In this we are looking for a carefully considered, original response that jumps out at us.  This is a chance for you to outline exactly why you have chosen UEA and how studying with us will make a difference.
From time to time we will also refer to your main application if we feel that it would back up and strengthen your submission.
INTO UEA Students: INTO Staff will nominate INTO UEA Foundation students for these awards. Only INTO UEA Newton students apply directly to us.  If you are an INTO UEA student with questions about eligibility you can email our progressions team.
Dossier de candidature
---
Informations de contact
---