Bourses d'études UK 2020: Postgraduate program at Nottingham Trent University
---
Type de bourse
Bourse d'études Pays
Royaume Uni Niveau d'études
Doctorat Date fin de candidature
15 oct. 2020
---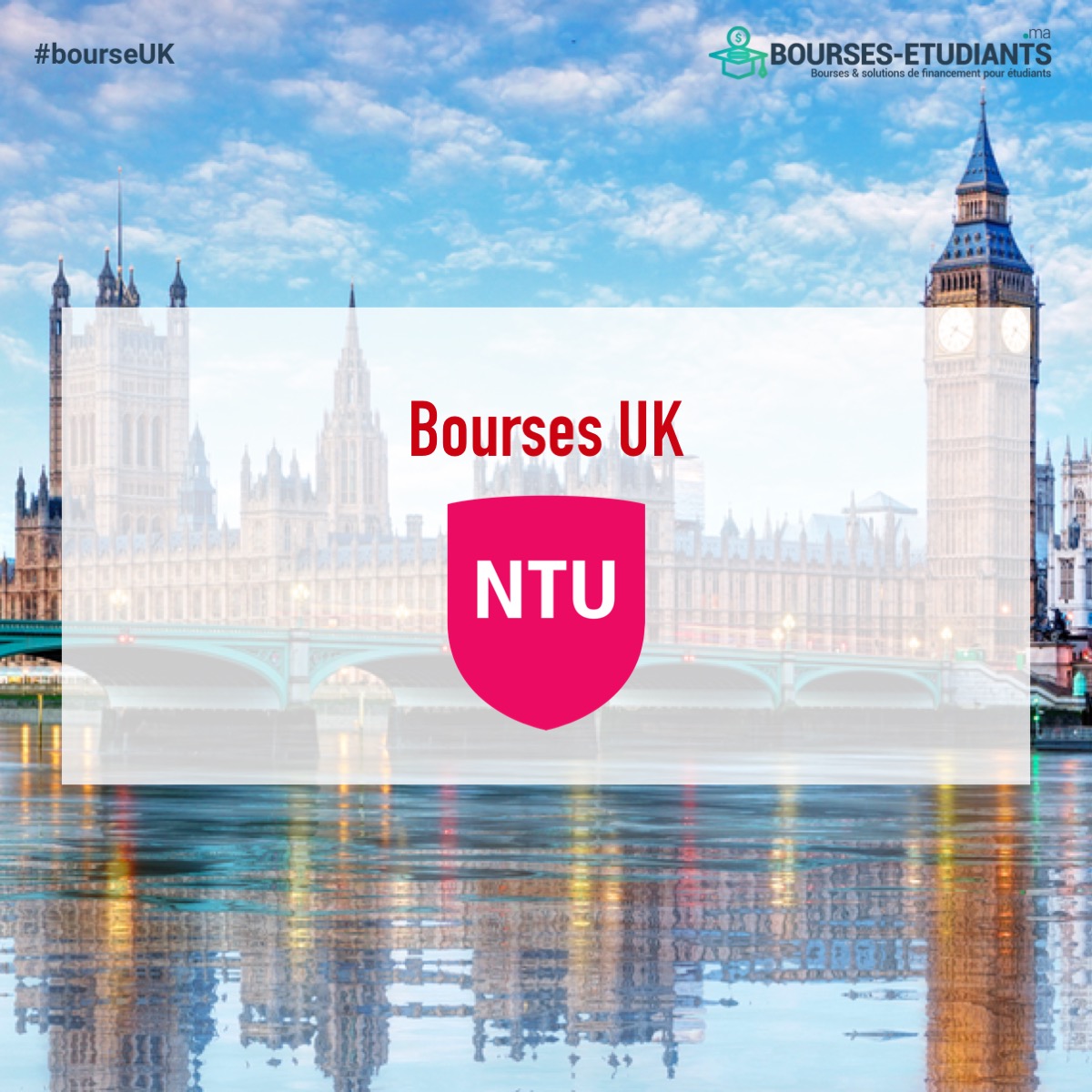 ---
Bourses d'études UK 2020: Postgraduate program at Nottingham Trent University
Description
Nottingham Trent University is a leading public research university located in Nottingham, England. It is ranked 600 worldwide by the QS World University Rankings and was awarded the University of the Year by The Guardian in 2019. To improve the experience of students, the University develops new methods of learning and teaching. Our inventions make it possible for students to succeed.
Eligibility Criteria
The applicant must have to meet the following eligibility criteria:
The candidate must be an international student and an EU student.
Applicants must be enrolled in a full-time postgraduate degree program (excluding GDL, LPC, BTC and exchange students) at the University.
Applicant must be offered to study in January 2021 from the University.
Acceptable Course and Subjects
The scholarships are open for studying Postgraduate taught program in the following fields:
Advertisements
Science
Mathematics
Communications
Engineering
Economics
Environment
Visual Studies
Health
Humanities
Music
Various
Why Study at Nottingham Trent University?
Nottingham Trent University is a modern, forward-looking organization with a vision and strategy for creating the University of the Future. The University is offering programs for degrees and courses. The University is supported by sports and athletes, including sports halls, facilities, studios and fitness suites and a nutrition training centre.
Benefits of the Programs
The scholarship will be awarded as follows:
Each winning candidate will assist the discount of 50% towards the tuition fees.
Recipients have a chance to become a student ambassador.
How to Apply for the Scholarship
For applying to theses studentships, candidates are needed to follow these steps:
Step 1: Apply for Admission
If you want to be enrolled in this educational program, you are advised to take admission in postgraduate taught coursework at the Nottingham Trent University.
Step 2: Apply for a scholarship
After taking confirmation, you are required to download the application form and email your form to [email protected]
Apply for a scholarship
Step 3: Submit required documents
High school Diploma Certificate
School transcripts already available
Transcripts from prior school (only if requested)
Post-Secondary Transcription
Official survey results
Start / Course Vitae
Entry Requirements
Applicants must meet the general country entry requirement and hold all the documents at the time of admission.
If English is not your mother tongue, you must have competency in English and demonstrate a certificate of English language proficiency.
Applicants must hold bachelor degree certificate or equivalent.
Visa Requirements
To order to study at Nottingham Trent University, most students from outside the EU/EA who plan to study to the UK on a full-time course lasting more than six months will need to apply for a Tier 4 (General) student visa. If you are currently abroad, you will need to obtain a Tier 4 visa before you travel to the UK. You may apply for a Tier 4 visa no more than three months before the start date of your course.
Visa Requirements
Application deadline: October 15, 2020
Contact address: +44 (0)115 848 8175 or [email protected]
University location: Nottingham Trent University, 50 Shakespeare Street, Nottingham
Dossier de candidature
---
Informations de contact
---
Organismes proposant la bourse
Nottingham Trent University Nottingham Trent University (NTU) is a public research university in Nottingham, England. It was founded as a new university in 1992 from Trent Polytechnic (later...