Bourses d'études UK 2020 : Undergraduate Program at the University of Bradford
---
Type de bourse
Bourse d'études Pays
Royaume Uni Niveau d'études
Licence Date fin de candidature
30 juin 2020
---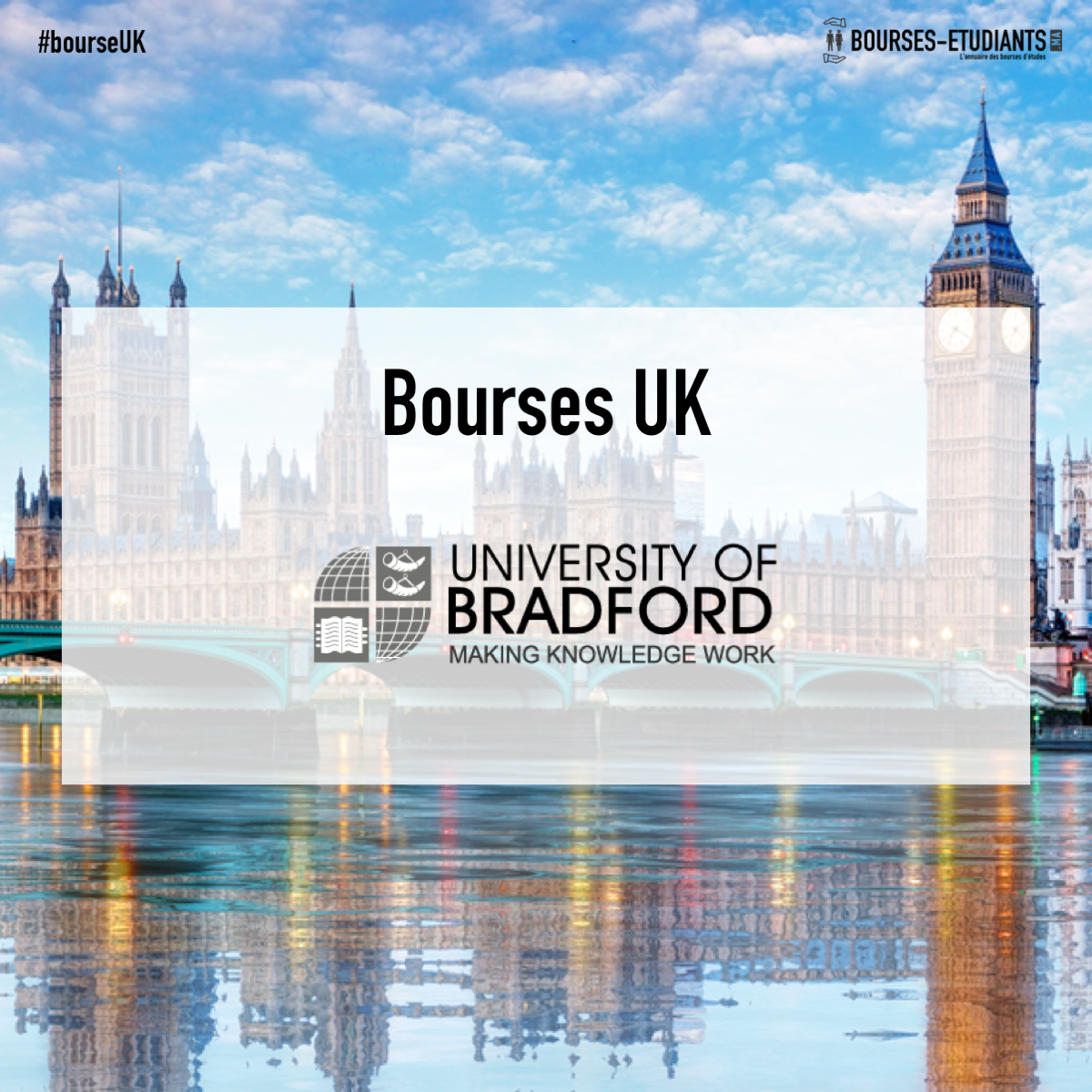 ---
Bourses d'études UK 2020 : Undergraduate Program at the
  University of Bradford
Description :
Having a desire to pursue your studies in the UK? If yes, then go ahead and apply for the International Academic Excellence Fee Scholarships offered by the University of Bradford. The program is open for the academic year 2020-2021.
The fund is established for those brightest candidates who are so keen to study the undergraduate degree coursework at a reputed UK university. Students from all other countries, excluding EU countries, are eligible to apply.
The University of Bradford is a public research university. It is regarded as one of the oldest and most prestigious triple-accredited business schools in the world. It has four academic faculties. The University is ranked 7th in the UK for graduate employment in 2005.
To be eligible for this educational program, candidates are required to meet the following eligibility criteria:
Students from all other countries, excluding EU countries, are eligible to apply.
The scholarship is only applicable to students who enter their programme in Year 0 (Foundation) or Year 1.
The candidate must have applied and received an offer of admission into the undergraduate or postgraduate degree program.
Eligible Courses and Subjects
The scholarships are available for studying the undergraduate or postgraduate degree coursework in the following subject areas:
Humanities and Sociology
Education
Law and Politics
Economics
Arts and Sciences
Science
Engineering
Agricultural and Life Sciences
Medicine
Why Study at the University of Bradford?
While studying at this University, you'll learn from academic and industry experts who are shaping the future of their sectors, and you'll learn in world-class facilities. Here, you can develop skills that are highly valued by employers – along with plenty of hands-on practical experience.
Benefits of the Programs
The scholarship will be awarded as follow:
You will get the amount worth up to worth £2,500, £3,000 or £3,500 based on your entry qualifications and nationality.
The scholarship will be paid in subsequent years if progressing with an average of 58% or above.
How to Apply for the Scholarship
For applying to theses studentships, candidates are needed to follow this application procedure:
Step 1: Apply for Admission
For taking advantages of this educational program, seekers are needed to take admission in the undergraduate and postgraduate degree coursework at the University of Bradford. After taking affirmation, seekers will be automatically considered for this scholarship.
Apply for admission
Step 2: Submit required documents
High school degree certificate transcripts of the current school
Transcripts of the previous school (only if requested)
Post-secondary transcript
Official test scores
Resume/curriculum vitae
Entry Requirements
For an undergraduate degree, you are required to hold their high school degree certificate.
For applying to the postgraduate degree, you are needed to hold their bachelor degree certificates.
If English isn't your first language, you will need to meet the English language requirements to study with us.
Applicant must meet the typical academic qualifications and requirements that we would typically consider.
You can also check other entry requirements of the University.
Visa Requirements
In order to become a full-time student in the UK, you will need a student visa. You can apply for the Tier 4 visa outside of the UK. For this, you will need a Confirmation of Acceptance for Studies (CAS). You can request your CAS after you have accepted an offer.
Dossier de candidature
---
Informations de contact
---