Bourses d'études USA 2020 : Masters program at St. John's University
---
Type de bourse
Bourse d'études Pays
États-unis Niveau d'études
Master Date fin de candidature
01 nov. 2020
---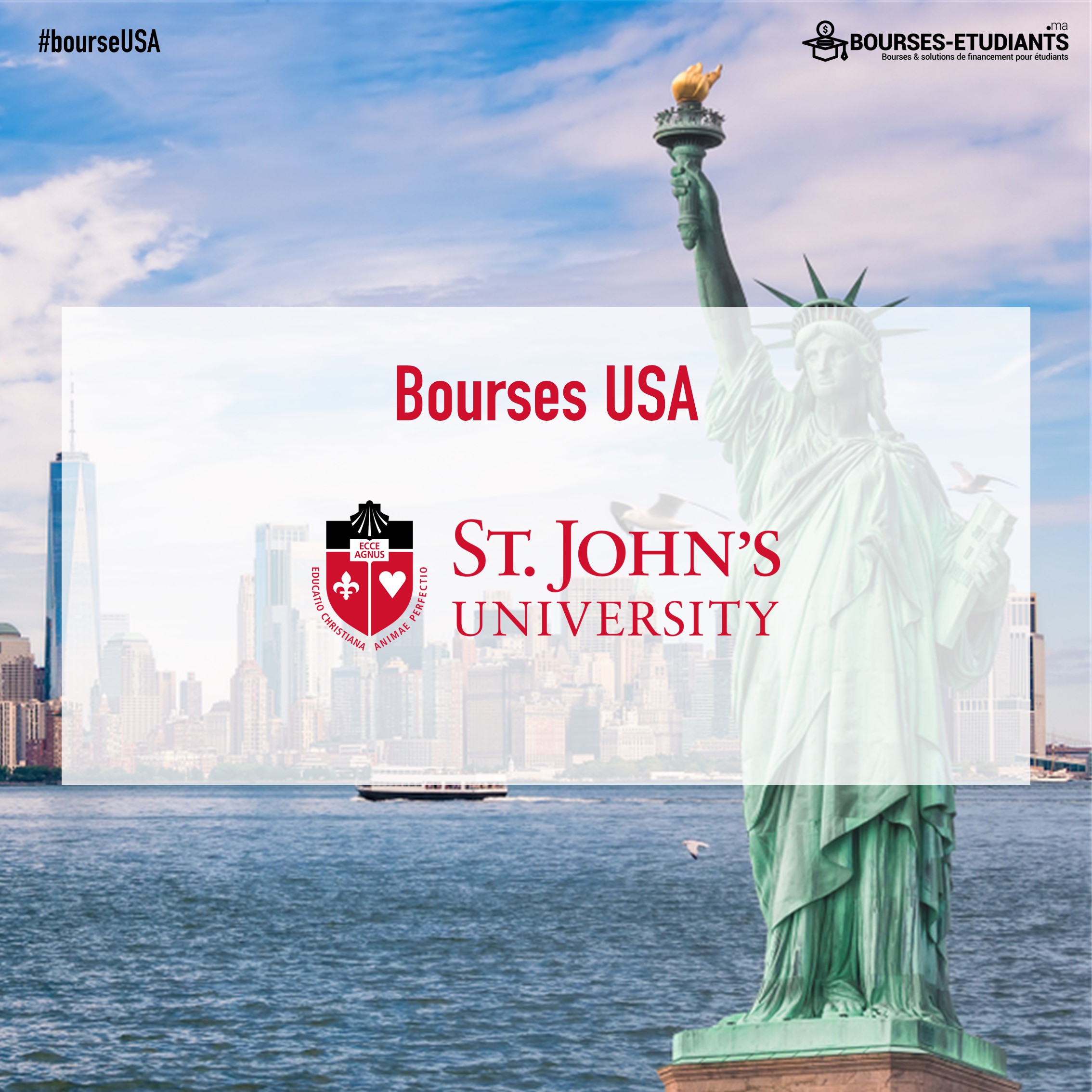 ---
Bourses d'études USA 2020 : Masters program at
St. John's University
Description:
Founded in 1970, St. John's University is a private Roman Catholic university in New York City. It offers over 100 programs in diverse areas of study like a business, education, health sciences, liberal arts, and sciences and professional studies.
Why study at St. John's University? SJU has many academic opportunities and an outstanding record for fostering great students academically. Students have plenty of opportunities to perfect their work ethic as well as find jobs in their field.
University: St. John's University
Department: NA
Course Level: Master's
Awards: Up to $6,500
Access Mode: Online
Number of Awards: NA
Nationality: International
The award can be taken in the USA
Eligibility            
Eligible Countries: All nationalities
Acceptable Course or Subjects: Master's degree in Pharmaceutical Sciences, Toxicology, Data Science, International Communication, Sport Management, Biotechnology, Applied and Computational Math, Biology, Chemistry, Criminology and Justice, East Asian Studies, Government and Politics, Museum Administration, School Psychology, Sociology, Theology, Actuarial Science, M.S. Enterprise Risk Management, M.B.A, Enterprise Risk Management, M.S, Risk Management and Insurance, M.B.A, Risk Management and Risk Analytics, M.S, Risk and Financial Advisory, M.S. and Taxation, M.S
Admissible Criteria: To be eligible, the applicants must have a minimum cumulative GPA of 3.0
How to Apply
How to Apply:  For this educational opportunity, no additional application is required. Once you take admission in one of the given master's degree course at the university, you will be automatically considered for the award.
Supporting Documents: Aspirants may be asked for a statement of purpose, letter of motivation, letter of recommendation and a CV.
Admission Requirements: Aspirants should have an undergraduate degree.
Language Requirement: Demonstrating the English language proficiency through the TOEFL or IELTS test is a must for studying the US.
Benefits
The St. John's University will provide an award amount range from $2,500 to $6,500 per academic year depending on the college, program, number of credits taken, and academic standing.
Dossier de candidature
---
Informations de contact
---
Organismes proposant la bourse
Founded in 1870, St. John's is a Catholic and Vincentian university that prepares students for personal and professional success in today's global society. As a university, they commit themselves ...