Bourses d'études USA 2020 : Undergraduate program at Columbia University
---
Type de bourse
Bourse d'études Pays
États-unis Niveau d'études
Licence Date fin de candidature
01 oct. 2020
---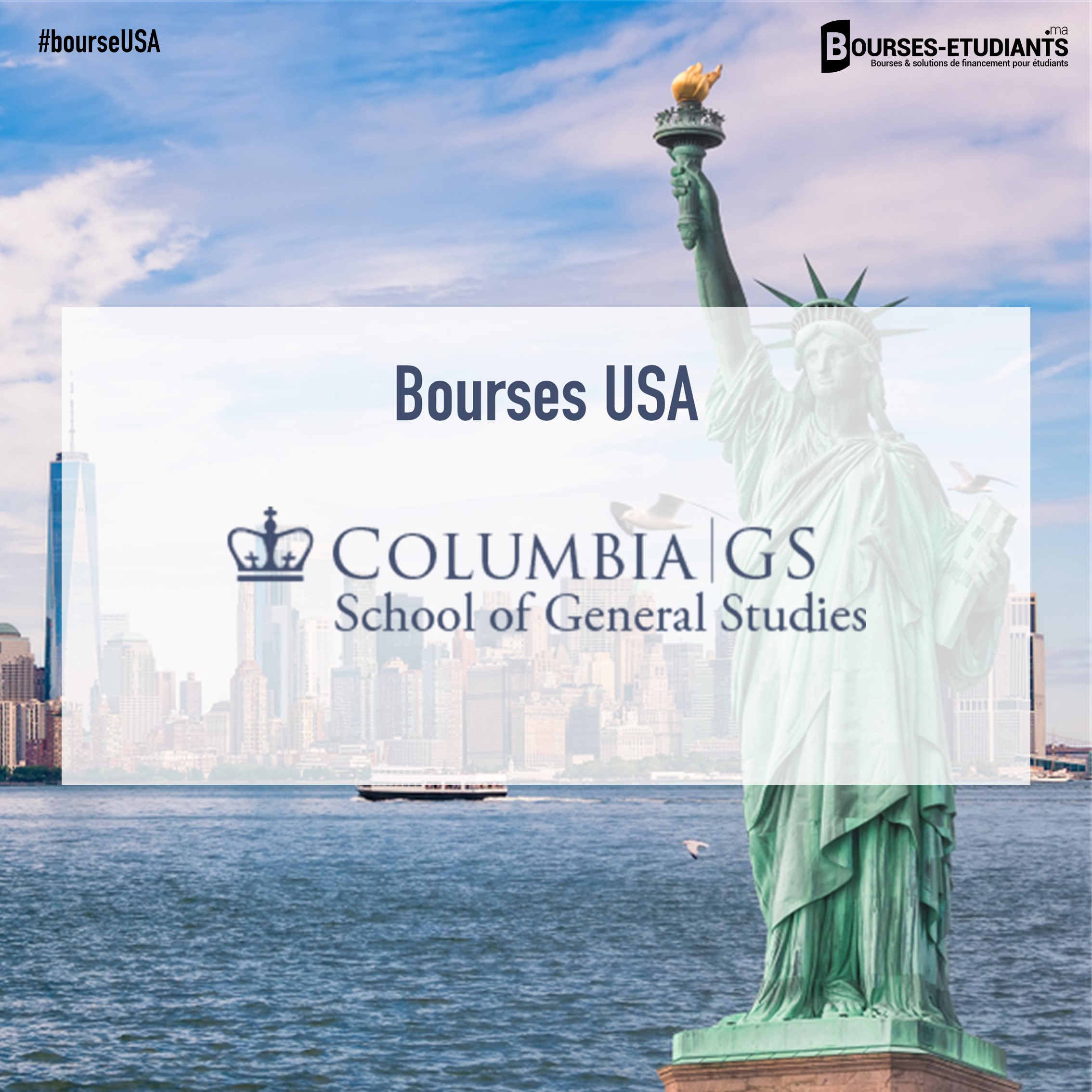 ---
Bourses d'études USA 2020 : Undergraduate program at
Columbia University
Description:
Columbia University is the oldest institution of higher education in New York. It is organized into twenty schools, including three undergraduate schools and numerous graduate schools. It is an independent, privately supported, nonsectarian institution of higher education and ranked 3rd overall among U.S. national universities.
Eligibility Criteria
The applicant must have to meet the following eligibility criteria:
Applicants should already have been offered a place at Columbia University and should have firmly accepted that offer or be intending to do so.
The Scholarship will be awarded broadly based on academic merit.
Candidates must have to provide proof that their English language skills meet the minimum admission criteria.
Students who have previous college credit from other institutions are eligible to receive in transfer up to 60 credits toward the 124 points required for graduation.
Acceptable Course and Subject
The University offers these grants for studying the undergraduate and postgraduate degree coursework in the following fields:
Advertisements
Engineering
Mathematics
Computer
Design
Science
Communications & Media Studies
Business
Environment
Economics
English
Why Study at Columbia University?
Columbia University provides knowledge and skills to students that come with an education from one of the world's best schools of public health. It offers a wealth of resources to help candidates to conduct career-related research, develop an effective job search strategy and build a professional network.
Benefits of the Programs
The Scholarship will be awarded as follow:
Each winning candidate will get the amount can range from $500 to $25,000, those in their first term of enrollment typically receive a scholarship between $9,000 and $12,000.
Scholarships are awarded to students with demonstrated academic achievement and are influenced by financial need.
Amounts typically increase from year to year based on academic success.
How to Apply for the Scholarship
For applying to theses studentship, candidates are needed to follow this application procedure:
Step 1: Apply for Admission
To be considering for this Scholarship, aspirants are recommended to take admission in the undergraduate degree coursework at Columbia University. After taking admission, seekers can apply for the studentship.
Step 2: Submit required documents

High school transcripts
Secondary school records or GED/TASC test results
Transcripts from all colleges or universities attended
One typed, double-spaced essay of approximately 1,500-2,000 words
Two letters of recommendation from academic and professional sources.
Note: Applicants must submit all materials directly, not through an agent or third-party vendor. Besides, the applicant will be required to attest to the accuracy and authenticity of all information and documents submitted to Columbia.
Entry Requirements
To be considered for admission to Columbia, you must be comfortable with rapid and idiomatic spoken English.
Candidates are required to hold their previous degree certificates.
Visa Requirements
You need a valid, unexpired student visa to enter the United States. Complete the State Department's Online Nonimmigrant Visa Application (DS-160) which is the first step in making your visa appointment. Read more about the DS-160 application here.
Dossier de candidature
---
Informations de contact
---
Organismes proposant la bourse
Columbia University is one of the world's most important centers of research and at the same time a distinctive and distinguished learning environment for undergraduates and graduate students in...