Bourses études : Weimar 2018 – Bauhaus University Weimar
---
Type de bourse
Bourse d'études Pays
Allemagne Niveau d'études
Master Date début de candidature
01 sept. 2018 Date fin de candidature
15 oct. 2018
---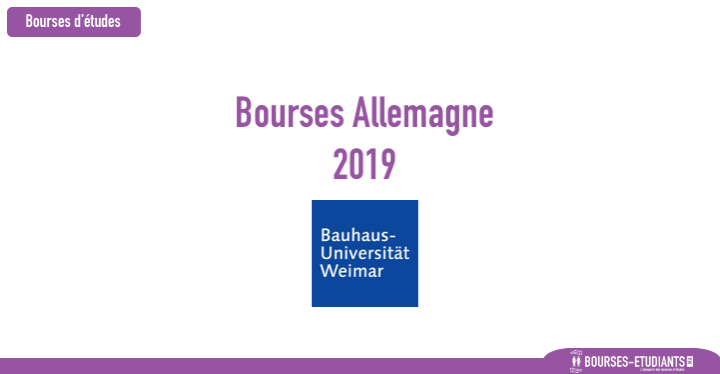 ---
Bourses études : Weimar 2018 – Bauhaus University Weimar
Bourses Maroc 2019
Weimar is a small city located in the heart of Germany. Its culturally important history and active intellectual climate contribute very much to the attraction of the city. Bauhaus University Weimar offers a unique study profile, combining structural engineering with architecture, the arts and modern media topics. Programmes offered follow bachelor, master, and doctoral tracks.
The Master's degree programme Natural Hazards and Risks in Structural Engineering is an intensive, supervised, research-oriented and application-based advanced course of study. It builds on the expertise and methodical skills in several fundamental areas of engineering gained in a first-level degree programme or through practical professional experience.
By providing students with advanced, scientifically-based, interdisciplinary knowledge, skills and methods, they are able to take on demanding engineering tasks in the areas of planning, construction and the realisation of structures under specific impact conditions. They are also able to carry out site or structure-specific risk analyses using modern tools for gauging the threat of natural hazards.
In addition to strengthening their theoretical and scientific competence, candidates are able to develop skills in modelling, numerical simulation and application of behaviour-based design and detection methods, fieldwork and laboratory investigation.
Entry requirements :
Bachelor's degree (B.Sc., B.Eng. or B.Tech.) in Civil and Structural Engineering or a related field with a final grade of 2.5 (acc. to German system) or better.
Proof of English language proficiency level B2 by submitting either:
1. Proof of English proficiency as a native speaker (certificate of higher education entrance qualification or first-level professional qualification (i.e., undergraduate degree) from an English-speaking country),
or 2. Proof of English proficiency level B2 based on the Common European Framework of Reference for Languages, certified by one of the following internationally recognized certificates:
• TOEFL (79 iBT, 213 CBT, 550 PBT)
• Cambridge Certificate in Advanced English, Grade C
• IELTS (Band 6.0) or other equivalent certificate.
Degree awarded Master of Science in Natural Hazards and Risks in Structural Engineering
Application deadline 15 October of the year prior to start at the university
For further information contact :
Bauhaus-Universität Weimar Faculty of Civil Engineering – NHREDipl.-Ing. Birgit Bode Marienstraße 7A, 99421 Weimar
Phone: +49-(0)3643-584568
Fax: +49-(0)3643-584565
Website: www.uni-weimar.de/nhre/
Dossier de candidature
---
Informations de contact
---