Bourses Pays-Bas 2017 – University of Amsterdam
---
Type de bourse
Bourse d'études Niveau d'études
Master Date début de candidature
24 nov. 2016 Date fin de candidature
13 janv. 2017
---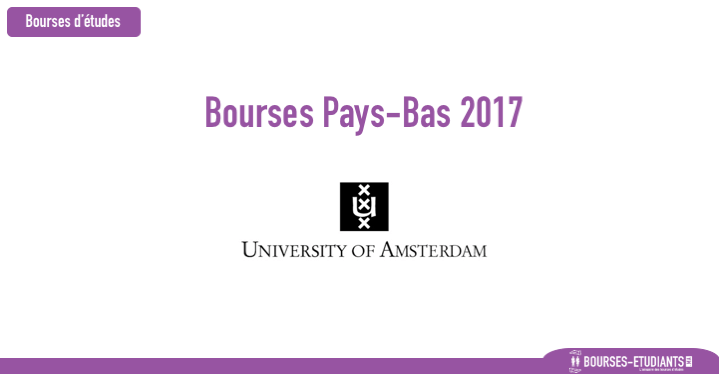 ---
Bourses Pays-Bas 2017 – University of Amsterdam
University of Amsterdam
Holland Scholarship (HS)
The Holland Scholarship is financed by the Dutch Ministry of Education, Culture and Science as well as 48 Dutch research universities and universities of applied sciences. This scholarship is meant for international students from outside the European Economic Area (EEA) who want to do their bachelor's or master's in the Netherlands.
Scholarship University of Amsterdam 
The scholarship amounts to € 5,000. You will receive this in the first year of your studies.
Application criteria
Your nationality is non-EEA.
You are applying for a full-time master's programme at the GSSS
You have never before studied at an education institution in the Netherlands
How to apply
There is no separate application procedure for the Holland Scholarship. Candidates are selected from applications to the AMS scholarship. Deadline for application for the AMS is 13 January 2017.
Dossier de candidature
---
Informations de contact
---