Bourses d'étude : Russie 2018 – Higher School of Economics
---
Type de bourse
Bourse d'études Pays
Russie Niveau d'études
Bac | Master Date début de candidature
15 nov. 2017 Date fin de candidature
28 févr. 2018
---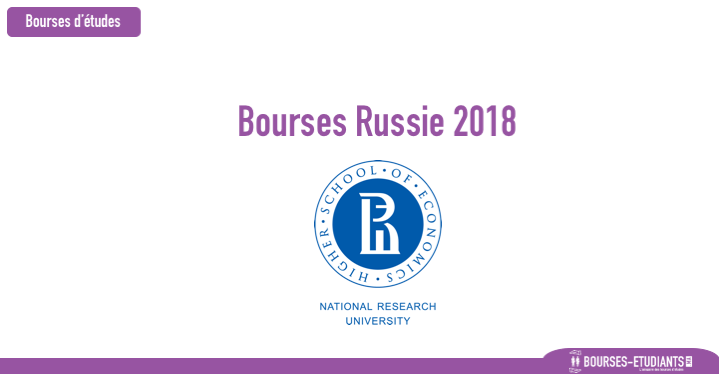 ---
Bourses d'étude : Russie 2018 – Higher School of Economics
Russie
International students can apply to study at HSE for free through full-tuition scholarships. This merit-based scholarship will completely waive all tuition fees for select full-degree Bachelor's and Master's programmes at HSE.
The Higher School of Economics is one of the top universities in Russia and one of the leaders in Eastern Europe and Eurasia in economics and social sciences. Since 2013, HSE has been a member of the Russian Academic Excellence Projecе 5-100, a highly selective government programme aimed at boosting the international competitiveness of Russian universities.
Our students come from all over the world to study in English or Russian in Bachelor's, Master's, and non-degree programmes. Most of our international students study at our campus in Moscow, a true global capital, and interact with some of Russia's brightest scholars in our classrooms and research labs. If your idea of learning involves combinining theory and practical experiences, HSE could be the perfect place for you.
pplicants should apply to the programmes they wish to enter and indicate whether they are applying for a scholarship (in the case that scholarships are available for their chosen programs). If the application is considered to be outstanding by the application committee, the applicant will be recommended for a scholarship.
Please note that scholarships cover only the cost of tuition (210,000 – 370,000 rubles) and that all other costs (including accomidation at HSE dormitories) must be covered by the student. Information about the estimated cost of living can be found here.
HSE also offers a wide range of tuition fee discounts to international appicants who are not eligible for Russian government scholarships.
Full-tuition scholarships are available for the following Master's programmes:

Download government scholarship application form
Download sample completed government scholarship application form
Timeline
November 15, 2017 – February 28, 2018: applications submitted during this time will be considered for full-tuition scholarships for graduate programmes
November 15, 2017 – February 28, 2018: applications submitted during this time will be considered for full-tuition scholarships for undergraduate programmes
*Please note that full-tuition scholarships are not available for the following graduate programmes: Quantum Information Technologies, Financial Analyst (CFA Program Partner), Global Business, International Business, Applied Statistics with Network Analysis, City and Technology, and International Relations in Eurasia. English-taught double-degree undergraduate programmes (with University of London) are not eligible for this scholarship either.
HSE Regulations for Awarding Quota Scholarships to International Students 
Russie
Dossier de candidature
---
Informations de contact
---