Bourses d'études Amsterdam : ASF International Scholarship at Amsterdam University College
---
Type de bourse
Bourse d'études Pays
Pays-Bas Niveau d'études
Doctorat | Licence | Master Date fin de candidature
01 avr. 2020
---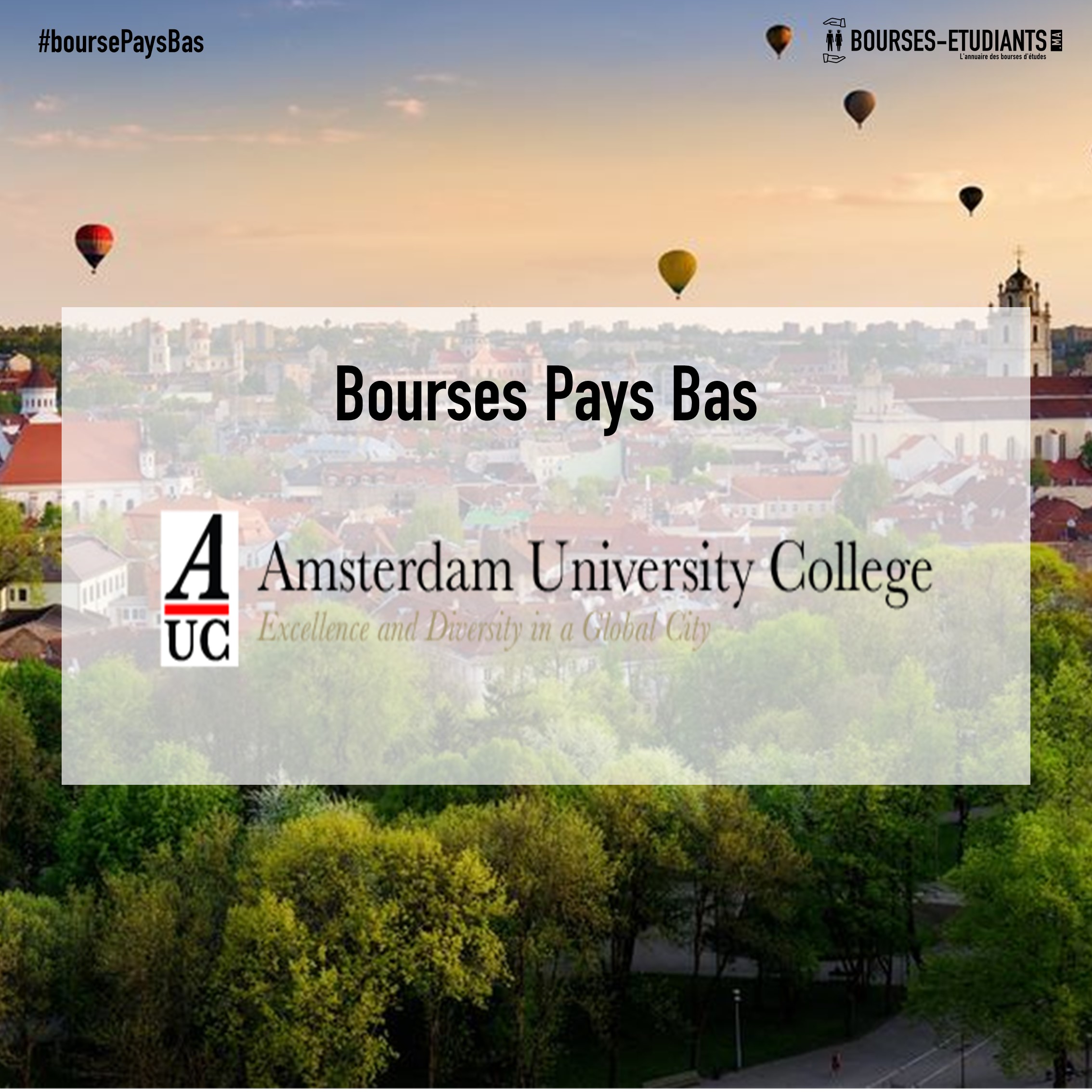 ---
Bourses d'études Amsterdam : ASF International Scholarship at Amsterdam University College
Description :
Increase your chances of studying at your dream university in the Netherlands through applying for the ASF International Scholarship administrated by Amsterdam University College in the Netherlands.
The opportunity is available for all those brightest aspirants who are so keen to study any degree level course at Amsterdam University College for the academic year 2020-2021.
Founded in 2009, Amsterdam University College offers a three-year honors degree in three comprehensive majors in science, social sciences, and humanities. It is divided into seven faculties. It also provides an internship opportunity for deserving students. It is committed to providing a top-quality liberal arts and sciences education.
Candidates must have to apply for a place at AUC.
Applicant's family income has to be below the threshold.
The candidate must have an excellent school result. These results will be taken into consideration by the ASF Selection Committee when assessing their academic merit. They will not see the candidate's AUC admission application, but they will receive information on your average secondary school grade (GPA).
Seekers must have a strong motivation to study at Amsterdam University College. The ASF Selection Committee will look for this in their letter of motivation.
Candidate must have to satisfy all visa and residence permit requirements.
The ASF Selection Committee is also interested in candidate's extracurricular accomplishments and activities relevant for AUC.
Applicant must be able to demonstrate your financial need.
If a student's family income is above a certain amount, then they will not be eligible for an ASF scholarship. They will need to send financial documents about their family income with the scholarship application, such as :
If you are Dutch and eligible for Dutch student finance (study financing), then your family income is measured by your eligibility for the additional grant from DUO.
If you are not Dutch and not eligible for Dutch student finance, then you need to calculate the total annual income before tax deductions of your parents/guardians, including non-taxable income such as benefits or pensions. This total needs to be below EUR 46,000 for you to be eligible for an ASF scholarship.
Applicants from outside the home country will be demanded to meet specific English language/other language requirements to be able to study there.
The AUC Scholarship Fund provides two levels of full ASF studentship:
EU students: EUR 5100 per year
Non-EU students: EUR 15300 per year
"EU students" includes Dutch students, and refers to students who are eligible to pay the statutory tuition fee for AUC (wettelijk college-aged).
Partial awards may also be awarded (these are usually 50% of the above amounts).
How to Apply for the Scholarship
Candidates can apply for this Scholarship through following these steps:
Step 1: Apply for admission
For being enlisted in this educational program, claimants are required to take admission in any of their chosen degrees at Amsterdam University College. After receiving affirmation, candidates can submit the online award application form.
Step 2: Submit required documents
You will need to provide your letter of motivation for the Scholarship, in digital format ready to upload.
You are also needed to Inform about your financial situation, to prove your financial need. All documents need to be in digital format (scanned) ready to upload. This information will be kept strictly confidential.
Students must have, on average a secondary school GPA of ≥ 3.0 (≥7.5 in the Dutch system, ≥ 5 for IB, ≥ 10 for Abitur).
Candidates are required to hold their previous degree certificates.
Seekers are also demanded to demonstrate their ability to meet the academic demands of the AUC programme.
Payment of Scholarship
ASF Scholarships will be paid directly to the student in 10 monthly installements. Students will be responsible for paying their AUC tuition fee themselves. The grant does not pay their tuition fees for them.
Contact email or phone number: [email protected] or +31 (0)20 525 2222 
ASF application deadline: April 1, 2020
Frequently Asked Question
Question- Is there an application fee?
Answer- There is NO application fee to apply for Scholarship.
Question- What happens, if I do not meet the admission requirements?
Answer- If you do not (yet) meet the admission requirements, then any offer of a place at AUC will be on a conditional basis.
Dossier de candidature
---
Informations de contact
---
Organismes proposant la bourse