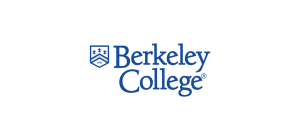 Berkeley College
Berkeley College is a private for-profit college with campuses in New York and New Jersey. It was founded in 1931 and offers undergraduate and graduate degrees and certificate programs. Berkeley College is regionally accredited by the Middle States Commission on Higher Education.
Berkeley College offers certificates, associate's, bachelor's, and a graduate degree. It provides academic programs through The Larry L. Luing School of Business, School of Professional Studies, School of Health Studies, School of Liberal Arts, and School of Graduate Studies. Some of the programs offered include criminal justice, fashion, interior design, nursing, accounting, and surgical technologist.
The College has three New York locations in Midtown Manhattan, Brooklyn and White Plains, and four in New Jersey (Newark, Paramus, Woodbridge, and Woodland Park). Berkeley College Online® serves a global population.
Informations sur Berkeley College
Berkeley College Knights Athletics includes Basketball, Soccer, Cross Country, and Tennis teams. They compete in the USCAA and the Hudson Valley Intercollegiate Athletic Conference. Degree & Certificate Programs are offered through five specialized Schools: The Larry L. Luing School of Business® In the Larry L. Luing School of Business, rigorous academic programs taught by a supportive faculty, complemented by a wealth of student services and resources, help graduates meet the challenges they will face in today's rapidly changing global business environment. The School of Health Studies The School of Health Studies provides outstanding career-focused education in some of today's most in-demand clinical specializations and administrative specialties. Degree and certificate programs have been carefully developed to meet the needs of students embarking on careers in healthcare. The School of Professional Studies The School of Professional Studies prepares students for success in a variety of careers requiring specialized training. Courses help students acquire the in-depth knowledge and latest skills required to excel as professionals in fields including criminal justice, legal studies, interior design, and graphic design. The School of Liberal Arts The School of Liberal Arts focuses on educating the whole student. Courses in humanities, mathematics/science, social sciences, English, and foreign languages complement Berkeley's specialized, career-focused training to offer students a well-rounded educational experience. The School of Graduate Studies The School of Graduate Studies offers opportunities for advanced study. Building on Berkeley's long tradition of successful business education, an M.B.A. program in Management is offered at the Woodland Park campus and online. Designed for working professionals, the program draws upon students' administrative experience to illustrate key business concepts.
Bourses proposées par Berkeley College
University or Organization: Berkeley College Department: NA Course Level: Undergraduate degree Award: 50% of tuition fee Access Mode: Online Number of Awards: Not known Nationality...
Autres organismes qui pourraient vous intéresser