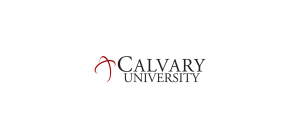 Calvary University
Calvary University is a biblically based, theologically conservative Christian university in Kansas City, Missouri. Formerly Calvary Bible College, the institution opened in 1932 and offers several associate and bachelor's degrees, including an adult degree completion program and online programs. Master of Science degrees in Organization Development, Music and Education are offered in the Graduate School, and Master of Arts, Master of Divinity, and Doctor of Philosophy degrees in Bible and Theology are offered in the Seminary. Fall 2018 total enrollment was 346, with undergraduate enrollment of 275 and graduate enrollment of 71.
Informations sur Calvary University
The Calvary campus is located in Kansas City, Missouri. In 2011 Calvary expanded its campus when five new buildings and 13 acres of land located directly across the street from its current campus were donated to the institution. Calvary's newly expanded campus offers spacious and modern dormitories, the Liberty Chapel auditorium, a beautiful classroom building, and a new administration building. The newly expanded campus also includes the student center, the KA-BAR Café. Classes began on the newly expanded campus in the fall of 2012.
Administration Building
Madison Hall houses offices for most of Calvary's staff and many faculty members including the president and deans. The registrar, business office, and development departments are all located here as well. The Welcome Desk in the lobby is the place where most campus visits begin.
Education Building
East Ed is the main classroom building for the college, and also house numerous faculty offices.
Warrior's Nook and Dining Hall
The campus dining hall and Warrior's Nook is a full service cafeteria which provides three meals a day to dorm students and guests. The facility seats approximately 185 people.
Hilda Kroeker Library
The Hilda Kroeker Library is home to more than 56,001 books, ebooks, and audio/visual materials. The library primarily serves the needs of Calvary University students. The library is a participating member of the Kansas City Public Library's Library Services Program consortium (KCPL-LSP). This allows students and faculty the ability to submit requests to the library for materials that are unavailable within the consortium by sending an email request to the library through WorldCat. The library also houses the Clark Academic Center, a tutoring and mentoring program in which students can get additional assistance with study skills.
Warrior Café and Student Lounge
The campus coffee shop and student lounge is named for the school's mascot- Nikao the Warrior. This location is provided as a place for students and visitors to relax, grab a cup of coffee, watch T.V., study, play games or purchase snacks.
Liberty Chapel
The Liberty Chapel is the main campus auditorium. Daily chapel services are held here as well as public events such as Theatre Arts productions, Music Department concerts, and the Baccalaureate ceremony. The auditorium is named in honor of Liberty Bible Church in Eureka, Illinois.
Student Dormitory
Calvary has a newly renovated four-story dormitory for students living on campus. The dormitory is divided in half for separate housing of male and female students and is supervised by Resident Assistants.
Bourses proposées par Calvary University
Degree: Bachelors, Masters Deadline: 01 Dec 2019 Scholarship value: Partial Funding, Varies according to the scholarship Calvary University is a biblically based, theologically ...
Autres organismes qui pourraient vous intéresser