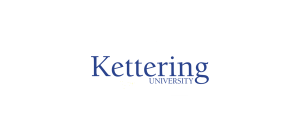 Kettering University
Kettering University (formerly General Motors Institute of Technology) is a private cooperative education and experiential learning-based university in Flint, Michigan, offering bachelor's and master's degrees in STEM (Science, Technology, Engineering, and Mathematics) and business fields.
Informations sur Kettering University
Kettering University ranked 13th nationally among non-Ph.D.-granting engineering universities and seventh nationally among mechanical engineering programs in the 2017 U.S. News and World Report 'Best Colleges' edition. Kettering University undergraduate students are required to complete at least five co-op terms to graduate. Students gain paid work experience in a variety of industries with Kettering's more than 550 corporate partners, and graduate with professional experiences accompanying their degree. Kettering University is named after inventor and former head of research for General Motors, Charles F. Kettering. Along with his distinguished career that included his development of the automatic cash register and automobile self-starter, as well as research on magnetism and solar energy, Kettering was a proponent of cooperative education. This concept included professional experience to supplement instruction in classrooms and labs. Kettering University's belief in experiential education is based on Charles Kettering's foundational belief in the power of combining theory with practice. Kettering University offers Bachelor of Science degrees in applied biology, applied mathematics, applied physics, biochemistry, bioinformatics, business administration, chemical engineering, chemistry, computer engineering, computer science, electrical engineering, engineering physics, industrial engineering, and mechanical engineering. The university also offers master's degrees in business administration (MBA), information technology, manufacturing management, operations management, manufacturing operations, engineering management, and engineering. Some masters programs are offered online, as the school launched distance education programs in 2015. Most undergraduate programs require completion of 160 credit hours for graduation. Kettering also offers students more than 40 minors, concentrations, specialties, and courses of study.
Bourses proposées par Kettering University
Scholarship Provider: Kettering University delivers an education that couples theory and practice well than any institution in the world. It has an extraordinary ability to attrac...
Description University or Organization: Kettering University Department: NA Course Level: Undergraduate course Award: $3,500 – $14,000 USD Access Mode: Online Number of Awar...
Autres organismes qui pourraient vous intéresser