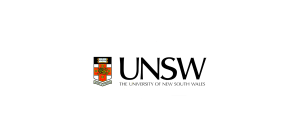 University of New South Wales
The University of New South Wales (UNSW; branded as UNSW Sydney) is an Australian public research university located in the Sydney suburb of Kensington. In 2012, UNSW recorded the highest median ATAR of any university in NSW and attracted the highest number of top 500 students from the state. Established in 1949, it is ranked 4th in Australia, 43rd in the world according to the 2020 QS World University Rankings.
Informations sur University of New South Wales
The university comprises nine faculties, through which it offers bachelor, master and doctoral degrees. The main campus is located on a 38-hectare (94-acre) site in the Sydney suburb of Kensington, 7 km (about 4.3 miles) from the Sydney central business district. The creative arts faculty, UNSW Art & Design, is located in Paddington, UNSW Canberra is located at the Australian Defence Force Academy in Canberra and sub-campuses are located in the Sydney CBD, the suburbs of Randwick and Coogee. Research stations are located throughout the state of New South Wales. UNSW is one of the founding members of the Group of Eight, a coalition of Australian research-intensive universities, and of Universitas 21, a global network of research universities. It has international exchange and research partnerships with over 200 universities around the world. The origins of the university can be traced to the Sydney Mechanics' School of Arts established in 1833 and the Sydney Technical College established in 1878. These institutions were established to meet the growing demand for capabilities in new technologies as the New South Wales economy shifted from its pastoral base to industries fueled by the industrial age. The idea of founding the university originated from the crisis demands of World War II, during which the nation's attention was drawn to the critical role that science and technology played in transforming an agricultural society into a modern and industrial one. The post-war Labor government of New South Wales recognised the increasing need to have a university specialised in training high-quality engineers and technology-related professionals in numbers beyond that of the capacity and characteristics of the existing University of Sydney. This led to the proposal to establish the Institute of Technology, submitted by the then New South Wales Minister for Education Bob Heffron, accepted on 9 July 1946. The university, originally named the "New South Wales University of Technology", gained its statutory status through the enactment of the New South Wales University of Technology Act 1949 (NSW) by the Parliament of New South Wales in Sydney in 1949.
Bourses proposées par University of New South Wales
Brief Description des Programme de Bourses d'étude Australie 2024 à University of New South Wales : Scholarship Country: Australia University: University of New South Wal...
Candidates are expected to meet the following eligibility requirements to be considered for this educational programme: The applicant must be an International student. Candidate m...
Autres organismes qui pourraient vous intéresser